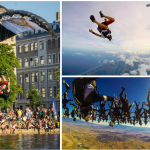 Skydive Sebastian presents F.A.D.E. CAMP!
Brought to you by Ellis Bourbonnais and Tom Baker
This camp is designed to be an all around intro to skydiving camp, geared specifically for jumpers recently off of student status who would like to create a solid foundation in every aspect of the sport. It is also focused on freeflying, as the freefall aspect of the camp.
Skill level required: Beginner – Intermediate
Camp will be capped at 21 participating jumpers.
Prices: 
Three days (Friday – Sunday): $175*
Two Days (Jumper's Choice): $130
One day (Jumper's Choice): $65


*Three day package includes FADE package with T-Shirt!

Jump tickets NOT included in registration cost. There are six jumps planned per day, with thorough debriefing before and after each skydive.

Seminars, games and prizes, are planned for inclement weather.

Registration will end either when the camp is full, or on October 5, 2016.

Friday, October 7th – Canopy Skills
Learning beginner to intermediate canopy maneuvers.
6 Hop n Pops with video debrief.

Saturday October 8th – Intro to Freefly
Minimum Requirements:
Freefly friendly rig
50 jumps

Sunday October 9th – Intro to Tracking and Angle Flying
Minimum Requirements:
50 jumps 
Learning about flat and angle tracking, as well as their differences and their similarities. Focus on proper body technique, how to fly with a group, what it means to be "on level", and safe break off procedures.

For any further information, feel free to contact Skydive Sebastian (772.388.5672), or Ellis directly through email (danhohawaii@hotmail.com).

REGISTER NOW for entire camp (if registering for day rate, register through Skydive Sebastian's event page):


https://www.paypal.com/

cgi-bin/

webscr?cmd=_s-xclick&hosted

_button_id=5ESRBAR6PJTDY