Tandem Skydive over the Florida Coastline at Skydive Sebastian!
Experience the thrill of freefall with the Coastline and the Atlantic Ocean for Scenery!
Tandem Skydive over the Coastline!
At Skydive Sebastian, a Group Member of The United States Parachute Association, you will experience your Tandem Skydive over the Florida Coastline with the Atlantic Ocean for scenery!
Enjoy a breathtaking view of the Florida coastline and the Atlantic Ocean during freefall and during your flight under Canopy.   Skydive Sebastian is the only Skydiving Center in Florida that can offer you this scenery during your Tandem Skydive!   Our photographs and video tell the story better than words can.   Why experience your 1st Skydive "inland" when the Treasure Coast beckons at Skydive Sebastian?
Experience your first Skydive where The Scenery is inspiring!
Tandem Prices and Information
---
Online Purchase and Scheduling of your Tandem Skydive
You can make an online reservation for your skydive(s). Online reservations require that you either purchase your skydives or pay a $50.00 deposit for each reservation.
You can also call our Manifest Office at (772) 388 – 5672 and they will be happy to make a reservation for you on the phone without a deposit.
If your plans change, you will, of course, be free to reschedule your skydive(s).
Purchase a Tandem Skydive at skydive sebastian to give as a gift!
If you would like to purchase your tandem skydive before your visit or you are purchasing a tandem skydive for someone as a gift and would like to receive a gift certificate, you can make your purchase here with option of scheduling your skydive now or at a later date.
The perfect gift when you want something unique. The Gift Certificate and our Complimentary Skydiving DVD make a terrific gift presentation!
Your reservation date can be changed if your plans change with a quick visit to our Online Scheduling Calendar or give our Manifest Office a quick call at 772-388-5672 and they will assist you.
You must be 18 years of age and cannot weigh in excess of 230 lbs to do a tandem skydive.

Group Rates: $20 discount per person for Groups of 4 – 8 Tandem Skydivers. $30 discount per person for Groups of 9 or more Tandem Skydivers.
Student / Active Military Discounts: $10.00 (current Valid ID must be presented at check-in).
Discounts cannot be combined, each skydiver receives the largest discount for which they qualify.
Tandem skydives are fully refundable for 60 days. Thereafter they are not refundable but are fully transferable.
Online Reservation deposits are non-refundable although you are free to reschedule as needed.
Tandem Skydivers This Week on You Tube
Enjoy a visit to one of the most beautiful parts of the Florida coastline and experience the thrill of your lifetime!   Our professional jumpmasters' experience level exceeds thousands of tandem skydives and our skydiving center has maintained one of the best safety records in the sport.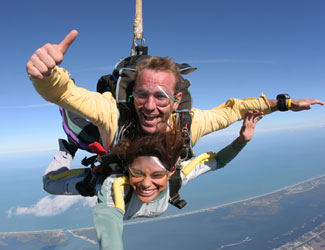 ---
Our professional and friendly staff will make your skydive unforgettable!    They are seasoned instructors who know how to answer your questions and will go out of their way to be sure you enjoy everything about your first skydive.
---
The tandem skydive is the easiest way to first experience the incredible sport of skydiving.
This introduction to Skydiving has been used for many years providing first-time skydivers personalized instruction in freefall and canopy control after less than an hour of ground instruction.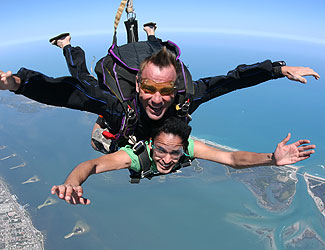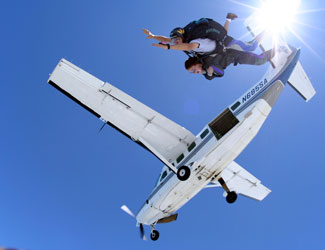 ---
Safely attached to your tandem master, you exit the aircraft above Skydive Sebastian and FREEFALL together! You'll freefall for almost a full minute while overlooking the beautiful Sebastian Inlet and the Florida Coast.
---
At 5,500 feet, you will deploy your parachute and enjoy an extended canopy flight descending slowly, making gentle turns through the sky for approximately 5 minutes allowing you to enjoy the breath-taking view.
Skydive Sebastian will make your first skydive unforgettable!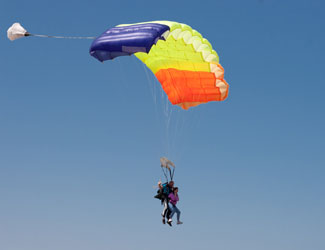 ---
A DVD and Digital Photographs of your Adventure to share with Family and Friends
We will also upload your video to YouTube so you can easily share your skydiving experience with your friends and family right after you land!
If you want a photo or video of yourself in freefall, we can do that too.   Our staff will video and take still photos of your skydive and send you home with a DVD and digital photographs to share with your friends and family.   Don't let this moment fade in your memory. Capture it for all your friends to see.   From gearing up to tip-toe landing, beautiful full color photographs and a DVD are a must!