Our Schedule of Skydiving Camps & Boogies
2016 – 2017
---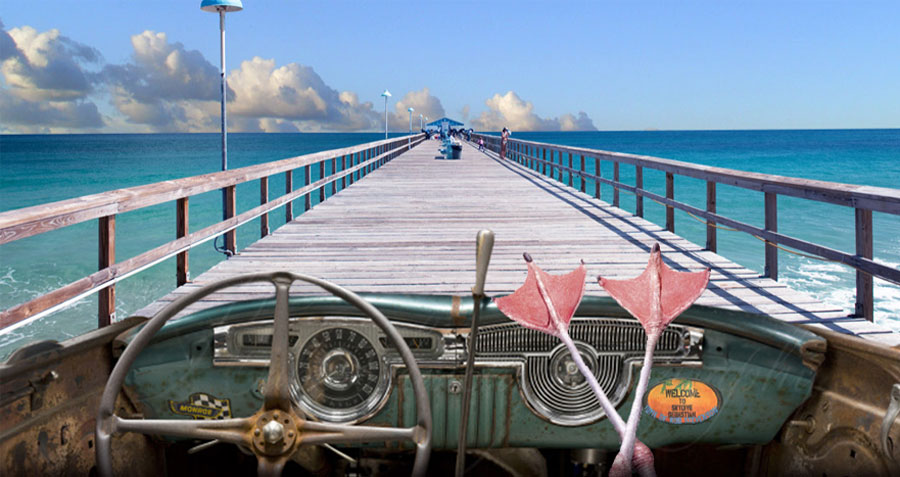 Team Dirty Sanchez Boogie
April 28 – 30

THE DIRTY DAYS ARE BACK AT SKYDIVE SEBASTIAN!
All proceeds will go to the: HALO no kill animal shelter in Sebastian.
Friday:
Initiation Jumps ALL Day
Friday Night: FIREBALL Fiesta! Games & Kick ASS PRIZES. Late night Truth or DARE!
RW organizing with Jeff Guy
Wingsuit organizing with Romain Bignon Berberian And Vincete Vicente Cajiga
XRW Organizing with : Lain Jensen
Saturday:
Initiation Jumps.
Silly TDS Jumps
Saturday Night: BBQ (included w/Registration), DJ, Foam Pit, Contests and Prizes.
The Miss TDS Beauty Pageant is back!  Best "69" freefall video. Raffle to benefit Halo Animal Rescue in Sebastian.
Prizes From: Liquid Sky, Alter Ego, Para Gear, Vigil, Velocity sports, GRUNDENS Rain Wear and apparel, Vertical suits, FLYING FLYNNS GEAR STORE, YOGiiZA Organic clothes for Organic people, ChutingStar, Gatorz sport glasses, Vector, OURAGAN Suits, Compass and Crow, Force E Dive Shop, Bevsuits,  Rigsleeve, Blue Skies Magazine, TMO suits.(The Mad Ones), Jupiter Kite/paddle/wake, Guanabanas Jupiter, DropZoneApparel, Die Epic/Live Legendary.the grassroots movement and brand of epic people crushing goals and Living Legendary, Blue Line Surf & Paddle Co, Sky Supply equipment sales/service and MUCH MORE!
BBQ included with all registrations and over $1,000,000 worth of PRIZES and Dirty Memories! (prize value subject to change – (lol)
Don't Miss THIS! See YOU there.
Preregistration: $25:
You get one Bad Ass TDS Shirt (included with pre- registration before APRIL 15TH).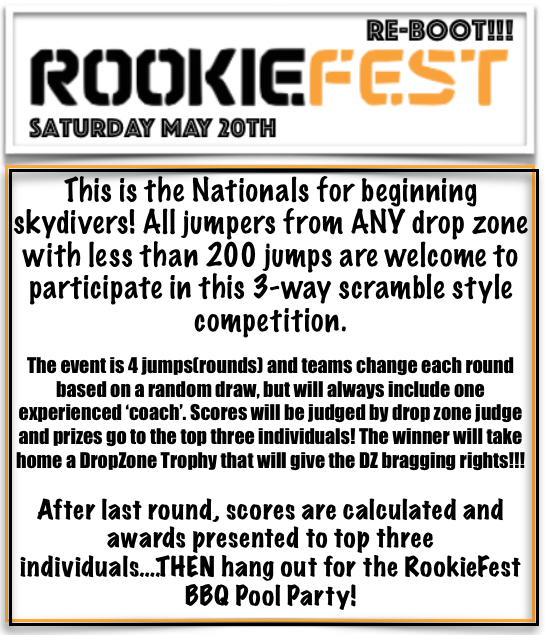 Registration:
$70.00 Registration covers some of your coach's slots, pool and BBQ. Bring your bathing suits. Birthday suits in the evening are optional. 
Register by May 17th!
---
October Head Down Camp
Organizers – SDC CORE
Oct 27-29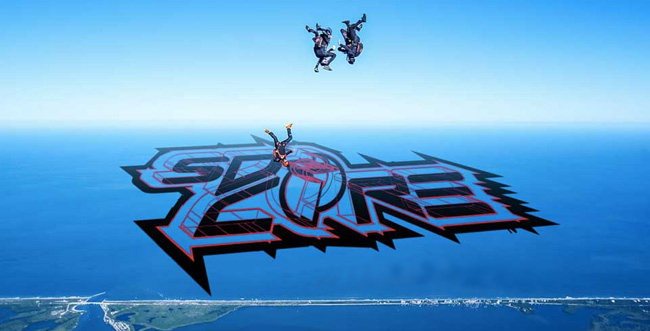 Is your goal to be on the next Vertical World Record at Skydive Chicago in Summer 2018?
Have you ever been on a formation jump?
Have you ever jumped while being "judged"?
Want to practice floating or diving?
Prepare yourself in a low pressure safe environment where learning is the sole goal. If you can safely approach a formation, fly in your slot and safely turn 180 and back track on break off this is the camp for you
Registration Deadline is September 1st
Who can participate?
Must be able to safely fly head down on level and in your slot relative to a base
Must be able to turn 180 and back track on break off
Don't need to be able to dock, just fly in your slot on level
If your flying is questionable or unsafe in any way for this group size you may be cut from the event
Event Schedule:
21 jumps, 7 jumps per day
Meet time to be determined.
Camp Costs:
Registration Fee: $50/day / non-refundable / due upon completion of the registration form
Jump tickets
Max – 40 PEOPLE
Registration:
Camps are limited to 40 people. We will not hold your slot until the registration is paid. Registration is non-refundable (extenuating circumstances will be taken into consideration)
Registration for the October 27-29 camp is $50/day
Camp outline:
Start with one plane 20 ways, doing dives that focus on specific bigway skills: all floating, all diving, flying your slot with no grips, taking grips, and then putting the groups together for formation jumps or keeping them as two groups but still doing formation jumps