Skydive Sebastian and the Zoo Bar Cafe are OPEN!

SCHEDULE
Winter Schedule: November 2, 2022 - April 30th, 2023:
Open 7 days a week, Closed Thanksgiving & Christmas Day
Summer Schedule: May 1, 2022 - Nov. 1, 2022:
open 5 Days a week: Mon, Tues, Fri, Sat, Sun
Experience an incredible view of the Florida coastline!
Our Florida location, east of I-95 on the coastline, is a convenient drive for skydivers from Orlando, Palm Beach, Broward and Miami-Dade County, making it the most accessible Florida skydiving destination.
You'll enjoy skydiving over the Florida Coastline! Whether its your First Time Tandem Skydiving in Florida, you are Learning to Skydive Independently at our year-round school for the Accelerated Freefall Course (AFF) or you are an Experienced Skydiver looking for a "destination" or a "home" drop zone.
Our drop zone is "actually" located on the Central Florida Coastline. Jumpers have an incredible view of the Sebastian, Florida Inlet and the Atlantic Ocean while in freefall and under canopy, as well as an enjoyable coastal environment after landing.
United States Parachute Association (USPA) Membership Dropzone
Experienced Skydivers
Skydive Sebastian's staff, local coaches, guest event organizers and local skydivers consist of some of the most talented skydivers in the world.
Experienced Skydivers
Skydive Sebastian's staff, local coaches, guest event organizers and local skydivers consist of some of the most talented skydivers in the world.
More Info
Skydive Sebastian
In Business for over 37 Years!
Enjoy the most scenic skydiving Florida has to offer!
Our world class skydiving center caters to skydivers in a beautiful park-like setting. Our facilities spread over 7 acres and include our main hanger, a spacious team building which includes complete bathroom and shower facilities and an on-site Restaurant and Tiki Hut for our post jumping Happy Hour activities.
The Staff at Skydive Sebastian is committed to making everyone feel at home here, whether they are a first-time tandem skydiver, a recent Accelerated Freefall Course graduate, one of our regulars, or a visitor spending a vacation at our Drop Zone.
At Skydive Sebastian we have it all…load organizing, beach skydives, The Zoo Bar and Cafe, skydiving gear store for your gear needs, on-site rigging services and one of the friendliest skydiving staffs not only in Florida, but in the world.
Our Coastal Location
The drop zone is located in the City of Sebastian on the beautiful east coast of Florida, USA.
Our location is a convenient drive for Orlando skydivers, Palm Beach skydivers and South Florida skydivers from Broward and Miami-Dade Counties. Go north or south, as the case may be, and take Exit 156 on I – 95, (Sebastian – Fellsmere Road Exit). Once you are on I – 95, you'll make 3 turns to arrive at Skydive Sebastian!
Skydive Sebastian
400 Airport Drive West, Sebastian, Florida 32958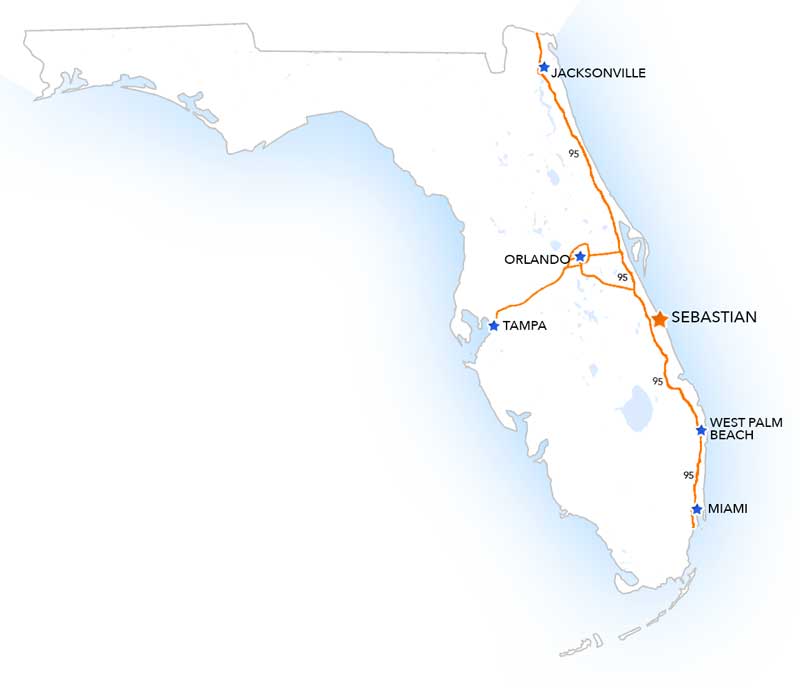 GENERAL REQUIREMENTS/INFORMATION
Aircraft and skydiving safety should never be sacrificed for coronavirus safety. Everyone is responsible for safety.
Skydiver areas will be restricted to the public. If you come for the view or to enjoy food and beverages at the Zoo Bar, there will be designated areas. Children must be accompanied by an adult AT ALL TIMES and are NOT permitted in the experienced skydiver area/tandem check in area.
Everyone visiting at Skydive Sebastian must have a face mask or other nose/mouth barrier in their possession and should wear such as frequently as practicable.
Why? You could spread COVID-19 to others even if you do not feel sick. The cloth face cover is meant to protect other people in case you are infected.
Disinfecting protocols in place
Maintain six feet distance where practical.

Government guidance is ambiguous. Differences in comfort with social distancing vary. Phase 1 federal guidelines recommend 6 feet of social distancing and maximum 10 in a group –except if social distancing is impractical, precautionary measures should be observed. Skydive Sebastian has determined that it is impractical to run the plane with six feet distance and ten skydivers. Skydive Sebastian is implementing precautionary measures. In deference to those wanting more social distancing, plane loads available on request with ten slots at $50 per slot.

Alert management or S&TA if someone seems ill.

Symptoms: cough, shortness of breath/difficulty breathing
Or 2 of the following: fever, chills, muscle pain, headache, sore throat, new loss of taste or smell.

Instructors will refuse to jump with anyone who appears ill and will advise management or S&TA.
Please limit your entourage and observers.
Everyone will sign the attached WAIVER and QUESTIONNAIRE. Any "yes" responses will be required to leave Skydive Sebastian.
WELCOME
2018 USPA NATIONAL PARACHUTING CHAMPIONSHIPS



HOSTED BY SKYDIVE SEBASTIAN AND UNITED STATES PARACHUTE ASSOCIATION, USPA
SEPTEMBER 18 – SEPTEMBER 28