Learn to Skydive in a Weekend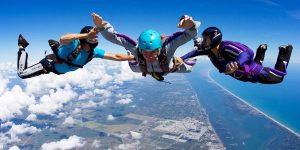 Take the AFF Course in a Weekend at Skydive Sebastian!
"AFF in a Weekend" is designed for jumpers who have completed a tandem or do not want to complete a tandem and would like to begin their student training without delay. There is no additional charge for a scheduled AFF Course in a weekend, it is just a convenience we are offering AFF Student who have to "budget their time".
Your AFF Training Weekend begins with your Ground School Class during which you will learn freefall body positions, dive flow, altitude awareness, heading awareness, deployment procedures, emergency procedures, canopy flight skills, and landing patterns.
In the course of the weekend you will complete all the jumps required for you to graduate from the AFF program!
Write us to schedule your "AFF In A Weekend" Course!
When the weekend is over you will be qualified to begin completing the solo and coached skydives required for you to qualify for your USPA A License.
How to Purchase or Reserve your AFF Course at Sebastian!
You can Reserve and Purchase your AFF Course here using PayPal or if you would prefer to purchase your skydives when you visit the Skydiving Center, you can make a reservation for your AFF Course by calling our Manifest Office at 800.399.JUMP or by sending us an Email advising us of your plans
You don't need a PayPal Account. PayPal accepts all major credit cards and is one of the most reliable ways to purchase online. PayPal will advise us by email of your purchase including the date you indicate for your jump. We will call and/or write you and confirm your reservation. Your reservation date can be changed if your plans change with nothing more than a quick telephone call or an Email to our manifest staff.
You must be 18 years of age and cannot weigh in excess of 230 lbs to enroll in an AFF Course or a 1st Student Skydive.
If you do not complete the course and would like a refund; jumps will be prorated and a 6% refund fee will be charged on refunded amount.
AFF Handcam Training Video Package – $125
Each of your student skydives is recorded on Handcam video to enhance student learning during instructor debriefing. You have an opportunity to purchase a package of these videos.
Includes:
1 Flash Drive
10 instructor freefall debrief videos (7 jumps)
Individual Debrief Videos $30 each
Outside Video and Digital Photos Package on a Flash Drive – $105
An additional jumpmaster/videographer accompanies you and your instructors on a skydive. Video will include your exit from the aircraft, as well as your freefall, and landing)
Class Schedule:
Each day starts at 8:00 am on weekends or 9:00 am on weekdays
Day 1: Check in at the manifest office and complete required paperwork. You will receive a Syllabus and Ground School Class will begin at 9:30 am in the AFF classroom. After completion of Ground School you will make your AFF Level 1 skydive.
Day 2: Check in with manifest to collect goggles and altimeter. You will be assigned an instructor to begin your Level 2 training. You will complete Levels 2, 3, 4, and 5. There will be a minimum of 30 minutes between jumps.
Day 3: Check in at manifest. You will complete Levels 6, 7, and your graduation jump – Level 8. There will be a minimum of 30 minutes between jumps. Upon graduation pose for a graduation photo and your instructor will complete your log book along with your graduation stamp.
Don't forget to stop by manifest and pick up your A-License yellow card which you will use when you continue to jump after graduation accumulating the number of jumps and skills required for your USPA "A" License.
The Zoo Bar is open for lunch and refreshments throughout the day. Stay hydrated and snack.
Advanced Reservations Required. Please keep in mind skydiving is weather dependent.
Sharpen your skills in the Wind Tunnel before or during the AFF Course – although tunnel time is not a substitute for required skydives, ten minutes in the tunnel enhances your skills to a degree that might otherwise take 10 skydives to accomplish. The tunnel is an excellent option to advance your flying skills before or during your weekend AFF Course. Reserve time in advance at the Iflyworld Orlando Wind Tunnel.
Every student skydiver is required to join the USPA on either a temporary or annual basis. The USPA provides many benefits to the skydiving community including 3rd Party liability coverage for your skydiving activities. The cost of USPA Membership, in addition to the cost of your student jumps, is $20 for a temporary (90 days) membership or $65 for annual membership which includes a monthly subscription to the USPA publication "Parachutist". We suggest the annual membership since Parachutist is one of the best publications in the industry and you'll look forward to receiving your copy each month.
Purchase your Student Skydives here on the internet and make your reservation at the same time! If it's a gift, print a Gift Certificate after your purchase.
You must be 18 years of age and cannot weigh in excess of 220 lbs to perform Student skydives.